Investing in Root Canal Therapy
Could Help You Avoid Costlier Treatment
Root canal therapy is the most common recommendation to treat a dental infection. Our team of experienced doctors in Plano, TX, determine root canal cost based on the materials used in the procedure, whether sedation is required, and other factors. At Imagecare Dental, we are committed to providing quality care at an affordable price. In order to help you preserve your natural smile without worrying about costs, we accept most types of insurance and offer flexible financing options through LendingClub® and CareCredit®.
Determining the Cost of Your Treatment
Although there is a standard protocol for root canal therapy, the exact steps of your personalized treatment will depend on your particular needs. As a result, the final cost of your procedure could vary but will largely be based on several factors.
Location of the Tooth
The location of your infection will affect the pricing of your root canal therapy. In most cases, the costs are less expensive for front teeth and more expensive for larger teeth. These costs do not include the build-up and porcelain crown that is typically placed to protect the tooth and restore its function:
Anterior: $943.00
Bicuspid: $1,087
Molar: $1,306
Length of Treatment
In most cases, we can complete root canal therapy in one appointment. However, if you have a particularly severe infection, you may require additional treatment. This will require more time and resources, adding to the overall cost of your procedure.
Use of Sedation
Thanks to advances in anesthesia and technology, root canals can be as painless as a standard cavity filling procedure. However, if you suffer from dental anxiety, we can provide nitrous oxide, oral conscious sedation, or intravenous (IV) sedation to make the process more relaxing. If you prefer sedation during your procedure, the overall cost of treatment will also increase.
Restorative Materials
Once your tooth is disinfected, you will require a filling or dental crown. Crowns come in a range of materials, including traditional metal and porcelain-fused-to-metal. We can also provide tooth-colored porcelain and zirconia crowns. These materials typically cost more than restorations containing metal. At the same time, their realistic color and lifelike translucency make them an outstanding investment.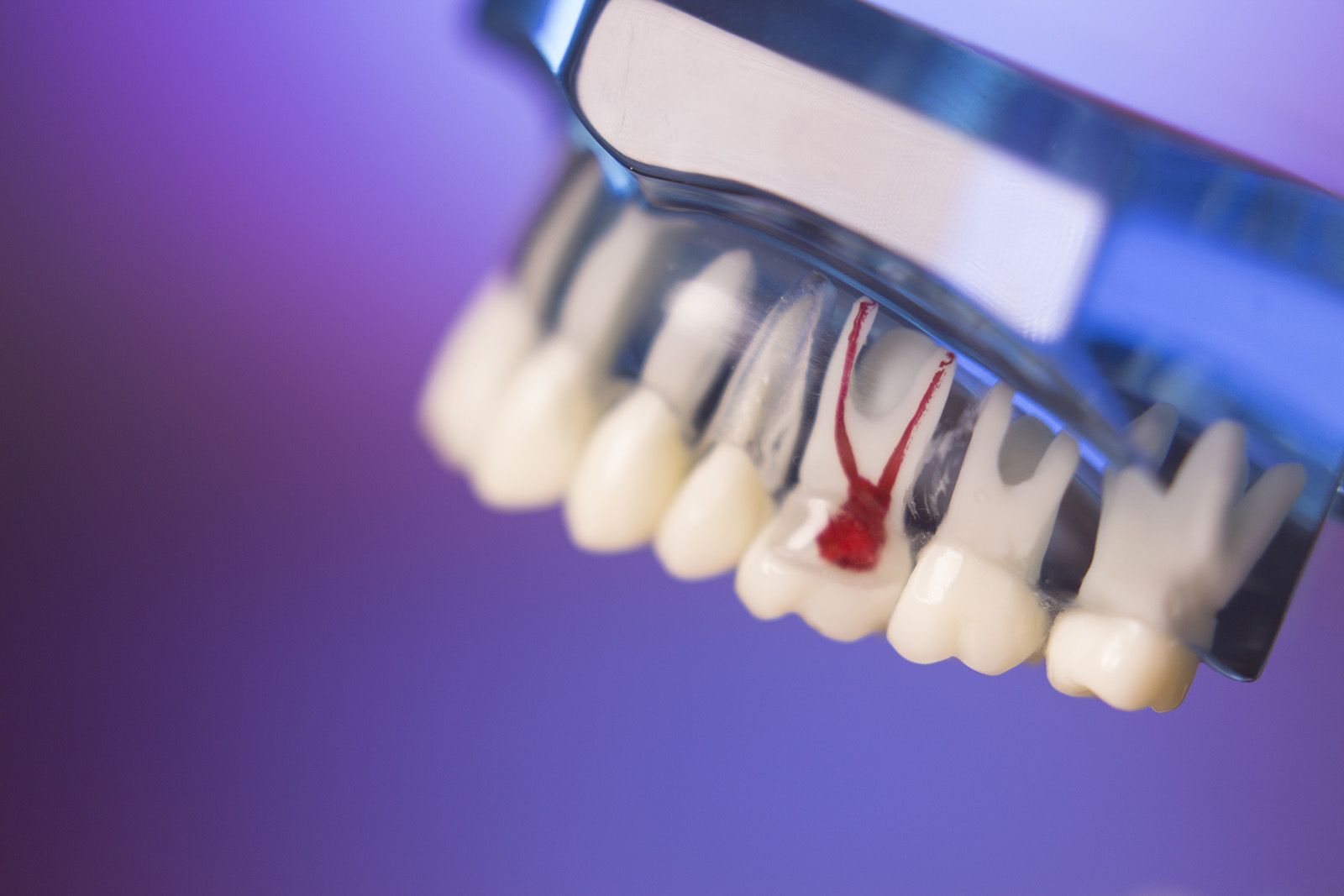 Root Canal Costs vs. Other Procedures
When determining the cost of your treatment, you should remember the importance of root canal therapy for both your oral health and quality of life. If you delay seeking dental care, the infection will spread and destroy the tooth. You will eventually require an extraction plus additional restorative treatment such as a bridge and dental implant. Not only would this require additional appointments, but your restorative treatment costs would be significantly higher than those associated with root canal therapy.
Root canal therapy can help save you money by reducing the need for more expensive restorations which are necessary to replace missing teeth.
Timely treatment for a dental infection can also prevent serious damage to your surrounding teeth and even your jawbone. In addition to restorative benefits, a root canal can ease your toothache and restore your ability to chew correctly. You could enjoy almost immediate dental function and comfort after your treatment is complete.
Insurance and Financing Options
Root canal therapy is necessary to restore oral health after infection, and we want to make sure that every patient can afford this treatment. We accept many major insurance plans and can help file your claim in order to maximize your coverage. In addition, we work with financing partners like CareCredit and LendingClub which offer low-interest rates to fit your budget.
Receive a Treatment Estimate
Root canal therapy can help save you money by reducing the need for more expensive restorations which are necessary to replace missing teeth. Call our office at (972) 618-5000 or contact us online to schedule a consultation and receive your treatment estimate.